BACKGROUND:
"Land of the Dancing Sky" and the associated logo, attempt to describe the positive feelings associated with living and visiting in Northwest Minnesota. The land brings us agriculture, recreation, and the freedom of open space. The dancing sky represents the unknown qualities that inspire us to create great art and world class businesses. Promoting the Land of the Dancing Sky allows us to celebrate our accomplishments, share the deep value of rural life, and anticipate a bright future.
HONORING THE PAST:
The term Dancing Sky has its origins in the northern lights and Native American culture.  It provides a connection to all the challenges fac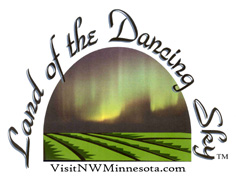 ed by the original inhabitants and the pioneers/settlers who transformed the area from a wilderness to a vibrant modern community.
LOOKING TO THE FUTURE:
The spirit of the previous generations will inspire us in the next generations of first class agriculture, business, and hospitality. The Land of the Dancing Sky will be economically successful because it is based on creativity, hard work, and the joy of living in a land where even the sky dances.
The world is changing and we are in the right place. Skilled minds, plenty of elbow room, things to do, places to shop, nature all around us, this is where people want to visit and live.
Everyone wants to buy our products, move in next door, and be connected to the quality life style which is growing strong under the northern lights.
LOGO DESIGN:
Artist Mara Wittman designed the attractive Land of the Dancing Sky logo.  Mara is an artist who lives in Warren and works as Arts Council Director for the Northwest Regional Development Commission.  The logo reflects the pride in our land and the vibrancy of our people and our area.  The tag line used below the main logo will change depending upon the use of the logo.  Throughout our website we have used the website address as the tag line in order to market our site.  "The words Land of the Dancing Sky combined with the image of our fertile land and our dramatic northern lights sky is quite powerful in its ability to depict our area.  My hope is that the logo is successful in creating a brand that artists as well as other local product producers can feel pride in being associated with," states Mara Wittman.
Wittman designed the logo in June 2003.   The concept of creating a trademark for the area was presented for approval in June 2003 at the annual meeting of the Northwest Regional Development Commission.  The Commission was very receptive to the idea and approved the logo concept and design as part of their meeting.